News
Posted by Ness Firth on
It is with great sadness that we are letting you know of the sudden death on the evening of Saturday October 29th of Roger Anthony Estes (Tony to everyone that knew him). Tony was one of the original founders of Big Joe's Biker Rings, and for many years dealt with many of our product ideas, and with you our customers. Although he stepped away from the business a few years ago he was still in regular contact as both a mentor and good friend. It's no exaggeration to say that he left a huge impact with everyone he met and...
Posted by BigJoes Biker-Rings on
The 8th of August this year is the 50th anniversary of the taking of the photograph for the last Beatles album "Abbey Road".  The 9th of August is also the anniversary of the sad loss to the music world of legendary Grateful Dead lead Jerry Garcia. At Big Joe's we have decided to extend our famous faces collection with a Jerry Garcia ring. We have also added John Lennon, Sir Ringo Starr, Sir Paul McCartney and George Harrison Pendants.  We will be adding the ring versions of the fab four as well later this month, as well as a new ring as a tribute to the recently...
Posted by BigJoes Biker-Rings on
Many customers are interested in Order Tracking.  The information in the Tracking Page has been updated to add how to track using USPS for our American customers and a new link for world wide tracking of EMS (Express Mail Service) worldwide.
Posted by BigJoes Biker-Rings on
July site updates include multiply currency views and order tracking update fixes.
Posted by BigJoes Biker-Rings on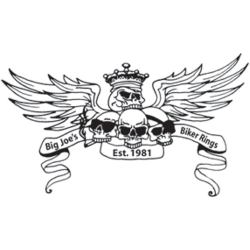 We've been making a lot of changes to our site recently, and now we are ready to launch them. The changes involved us moving platform, but the URL stays the same.  Any old book marks you may have should still find the site - because we haven't changed our domain, but individual pages will be all different now.  Increased product categories for easier navigation. Better product groupings so you have fewer pages to go through.  Improved search results including product pictures in search results. We've added a blog so we can update you you on whats happening. Most items have a single...